Barbara Bode Falcon, RIP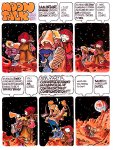 Too soon, too soon. Barbara Falcon, who was known universally as "Barbara Bode," has left this life. Barbara was the former wife of the brilliant underground cartoonist Vaughn Bode and the mother of his lizard spawn--the artist Mark Bode.
The passing of this prismatic and charismatic soul is a heavy loss for those who knew her personally and to the graff community.
She was the spark for Vaughn?s "Bode Broads," his unique way of drawing pinup in a recognizable fashion. To Vaughn, Barbara represented the most idealized form of feminine beauty. The vision of Vaughn's Bode Broads is a style that's appealed to the most influential and prolific graff artists of our time. Bode Broads can be seen in graffiti art all over the universe. Barbara?s moon-like face and curvaceous body type launched a thousand walls, worldwide.
"My father did hundreds of characters based on her image and some of them really captured her spirit, she was the original inspiration for all Bode Broads to come and ever since," said Mark.
Barbara's very nature was too complex to sort out, yet paradoxically she was an open book of the most fragile kind. She possessed great physical beauty, razor wit, keen intellect, and immense empathy. Still, one never wanted to cross the Sicilian Queen; she'd cut you off quicker than a piece of salami.
She was born Barbara Hawkins, in Utica New York, in 19xx. At the age of 16, the sultry-eyed teenager began dating a square-looking Vaughn. The couple eventually married against her parents' wishes. The intensity and dysfunction of their 11-year marriage was an event that Barbara tried to process until the end of her life.
The year of Vaughn's untimely death in 1975, she met and married Rick Falcon, the brother of Vaughn's sister-in-law. Rick was always the more normal father and husband that Barbara yearned for after the bizarre and tumultuous period with Vaughn. "After meeting Rick," Mark recalls, "it seemed like Mom and I had landed gently on a peaceful earth after we had just ridden on the tail of a space cowboy comet which was Vaughn's life with us."
Rick was Barbara's ultimate care-giver and loving husband until the end.
Rest in Peace Barbara.
- written by Angela Frucci
Labels: characters, comix, history, RIP