Refa One: Obama train
A Brand New Illustration by Oakland Artist "Refa One" Depicting Obama. This is the Latest Subway Car illustration from the popular Series "Train of Thought".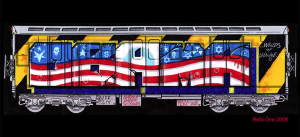 Title: "The Winds of Change" (ObAmA)
Medium: Permanent Ink, Pigment Pens and Marker Illustration
Size: 8 X17 inches (framed)
Price: $350.
Signed Prints:
8 X 17 inches $50
5 X 11 inches $25
contact:
refa1@hotmail.com
Labels: artists, illustrations, prints, USA, voting