Art Crimes: Airbrush Show / World Spray 2003
Milano Italy: March 1 and 2, 2003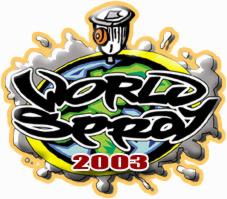 AIRBRUSH SHOW is the biggest annual European event of its kind.
It mixes Aerosol Art, Digital Art, Airbrushing, and Hot Rod Art in a big, crazy 2-day event.
Artwork is exhibited for sale. New artists from all over the world are selected every year. Part of the exhibition dedicated to a live show where aerosol artists paint in front of the crowd.
Airbrush Show is sponsored by: Montana Cans, Corona, Iwata Airbrush, Airbrush Art Magazine, Wildstylers.com and Airbrush.it
Info:
airbrush@airbrush.it
info@wildstylers.it

These photos are courtesy of Air, Milan, artwork is © copyright 2003 the artists.