Art Crimes: Amsterdam 13
These photographs © copyright 1996 Brit.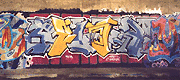 Delta/INC, 1992

Two pages from the "Post Graffiti" book from 1993, by various authors. This chapter about technical form aspects of the letter "S" was done by Shoe and Delta. Unfortunately, the book is out of print. Maybe if we're lucky, someone will put it online someday.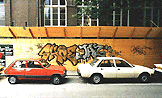 Shoe & Jaz 1985 USA/CTK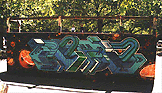 Zedz/INC/LHC/DSK, 1995
These photographs © copyright 1996 Susan Farrell winsom@graffiti.org
The following are all by Delta/INC. The photos were taken in 1995. The last one is from Rotterdam.
See more Delta on Amsterdam 6.

City Walls