Art Crimes: Bridgeport 6
July 20, 2003: 2nd Annual Lizard King Ball — a tribute to Vaughn Bode at Theme City in Bridgeport, CT — the biggest Bode production to date.
All artwork is © copyright 2003 the artists. Photos courtesy of Mark Bode. Please send corrections to yo@graffiti.org and mention Bridgeport 6.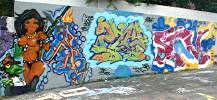 Stan 1, Priz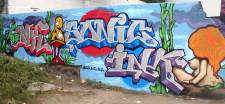 MK, Sonic, Ink 76.BAD,Inc.CNA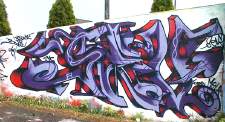 ?

Rage 3, Jick



Eros, Mone, Sket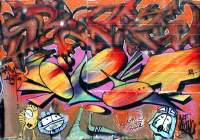 Swerm, Brat



Make and Maze

Marc Bode




Prim, Tec, Gamer, Sag, Bel, Spre, Ice, Credit




Pheam, Jaes (toward end)




Deem, Gusto, Brace, Bem, Accept, Phetus




Deksta, Statz



UW Crew, Jew (at the end)




FC / FBA: Keo, Dash, Jase, Serve, Knows, Tack

City Walls

Art Crimes Front Page