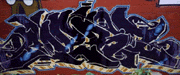 MERZ Rules!



Welcome to Queen City Tribe!
Ok, ok, finally we have time to "update" this site...
We know that this is not a "real" update, because we're not adding any flicks, BUT we wanted to let you know that we will soon. Our "staff" is now split. Half of us still live in Cincy, but the other half lives in NYC, therefore alot will change. Check back with soon. Enjoy what we got now, ok? Peace!



The one thing we wanated to get up here, because we get A LOT of email about it, is more info on our magazine.
It used to be called "Spreading the Disease", but after merging with "The Autority" we changed the name to THIRDSHIFT. Click here for more info and addresses to mail in flicks. Thank you.