Photos copyright © 1998 Jim Prigoff, all rights reserved.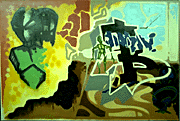 Bishop of Battle, 1985
See more of Jim Prigoff's photos of Dondi's work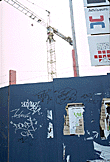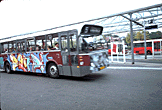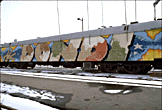 I didn't really know Dondi well ... like I knew Lee, Seen, Blast and many of the others from the great subway art period. It was at the Groninger Museum show in Groningen, Holland in 1992 that I had a chance to spend some time with Dondi in the gallery talking about his art. He had taken a few years off to recharge his energies and vision and I sensed he was ready to come back strong. He was a pioneer in moving from the trains as his canvas to the real fabric. He carried his sense of superb coloration from the trains to the easel, but while others continued to paint their names, he chose a more abstract and thoughtful subject matter to express himself in this new medium. "Yours Truly" and "Modern Prophets" from 1983 and "Bishop of Battle" 1985 were excellent examples of this special talent.
While the show was on, Futura, Zephyr and Dondi took to the streets to inscribe their famous signatures for all to see. How many writers today would give anything to have those autographs now long since torn down, written over or washed away!!!
Some of the writers were asked to paint the sides of buses and Dondi's was one fo those that made its rounds though the town of Groningen.
Our paths crossed earlier in 1986 as Henry Chalfant assembled a group of "Graffiti Kings" to go to Detroit to paint the sides of five train cars (Art Train) which contained a modern art show that would travel though Michigan stopping at schools in small towns along the way. Dondi recreated his "Dondi - Children of the Grave" signature car. The original train photos appear in "Subway Art", Cooper and Chalfant.
Too many RIPs for Dondi's generation of youth, but Don White left a legacy of art and courage for which we should all be grateful. The art world gatekeepers didn't want to let these innovative artists into their world, but there was no way to keep them out.
Peace and Respect,
Jim Prigoff