Featured Artist: Esae
All images and text on this page are copyright 2001 Esae.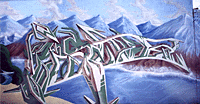 Apoes.57.CULT, Zeal.TDG, Midzt.GAW, Esae, 1999
I write "Esae" and I am from Los Angeles, California. I'm down with C.U.L.T. Crew, which stands for "creating unusual letter techniques" as well as "Charged Up Like Thunder." I am also down with TDG, Which was founded by AirOne (RIP), who was one of Los Angeles' most prolific graffiti artists. In the memory of Air, my friend FireOne and I prolonged the artistic productivity of Air's crew, which stands for "The Digital Gene" and "Third Dimensional Graffiti." Last but not least, WGS, which means "We Generate Style."
I started writing when I was pretty young, but I did not actually start painting until in early 1993, when I did my first piece in some lot that had burnt down during the L.A. Riots in 92. As soon as I did my first piece, I was hooked, and all I thought about was painting my next piece and the piece after that!
About a year later I saw a piece that changed everything I knew about painting graffiti art, the piece was by Erni from New York. I had never seen anyone paint a 3-d piece. That just inspired me to paint in 3-d. It was different, innovative, challenging, intriguing. So I sketched and practiced, until I painted my first 3-d in 1995, and when I did I knew that 3-d was for me. At the same time I did 2-d pieces for fun or when I didn't have enough paint for a 3-d piece.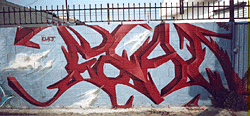 I really believe that the future of this art form is 3-dimensional graffiti. Maybe not 3-d in geometrical shapes but 3-d in general. It seems as if more and more graffiti artists are striving to make their art look real down to the last spray from pieces to characters to backgrounds in productions.
Anyone who's anyone is pushing their artistic creativity as well as technical boundaries to the furthest extent, and in the process inspiring others, while learning from what they do individually as well as from other graffiti artists. I strongly believe that graffiti art is headed in a positive direction from the streets to the galleries and into the creative minds of inner-city youth as well as society in general.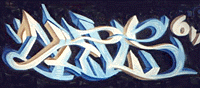 "Disiple 6"
That is why I paint now. Growing up in the projects of East Los Angeles surrounded by gangs and violence, I needed an outlet that was not negative — something that would make me feel good about myself — something that I was good at. Something that would give me more than just what was around me. That is my graffiti art.
| | | |
| --- | --- | --- |
| Truck character by Amen.TDG | | |
See more Esae in the Night Before Christmas mural in East LA

Featured Artists