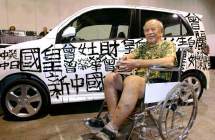 (courtesy of Dofi)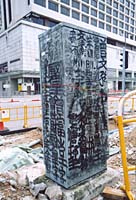 (photo by Peter Merridew, 2003)
More info about the King of Kowloon:
(Urban Messenger RIP)
(urbanphoto.net article)
(urbanphoto.net RIP)
(RIP by ESP)
(portrait on Space-Invaders)
(Documentary film site, scroll ->)
(Flickr)
(Flickr)
(Flickr)
(Flickr)
(Flickr - Chinese)
(older example of Tsang's work - Chinese)
According to various news sources, Mr Tsang Tsou-Chio, also known as the King of Kowloon, died of a heart attack in July 15, 2007. He was 86 years old. He had been writing graffiti in Hong Kong since he was 35 years old (so he wrote for 51 years, since 1956).

Dofi.TWO, in Hong Kong told us:
"Tsang wrote about his ancestors, a list of the Tsang family beginning with the first generation arriving in what's now Sau Mau Ping, 1700 years ago. Also he wrote about places his family owned. The list often ended with "Emperor of the kingdom of new China Canton and Kowloon Tsang Tsuo Choi."

Tsang was arrested many times for vandalism, but his only known prison time was in the '60s when he smashed a window at a post office with a rock and did 18 months locked away. He walked with crutches for many years after a rubbish container fell on him injuring his legs permantly. As his knees could no longer support him he retired from painting the walls in mid-2003."

AFP (News) reported:
"Tsang claimed much of the land in Kowloon belonged to his family but the government had annexed it without compensation, according to the South China Morning Post (SCMP) on Thursday [July 26, 2007]. The report said when he failed to get official recognition of his claims, he published them on the walls of Hong Kong."

"But the SCMP report said there were calls for Tsang's work, some of which remains on walls in Kowloon, to be preserved. His work typically consisted of a list of his ancestors. Also included were places that his forebears owned."

"He became famous around the globe after some of his works were displayed at the Venice Biennale international art exhibition in 2003. In 2004 one of his pieces sold at a Sotheby's auction for 55,000 Hong Kong dollars ($7,000 USD). Tsang's work has inspired fashion designers and interior decorators. Louis Vuitton also featured him in a handbag advertisement."

Reuters said:
"His works are now in danger of vanishing completely. Only a few examples of his art remain, including a pillar at the Star Ferry Pier, sparking calls by legislators, art critics and preservation experts to save these vestiges. "I don't see any reason why they should be removed," said Bernard Chan, a member of the Executive Council -- Hong Kong's top policy advisory body and the Antiquities Advisory Board. Lau Kin-wai, an art critic and friend of Tsang's for many years, called on the Hong Kong Art Museum to mount an exhibition to pay full tribute to Tsang's legacy. "He has already become a cultural icon and part of the collective memory of Hong Kong. (His work) is important for our future and past," Lau said."