Art Crimes: Los Angeles 16
All artwork is © copyright 1995 the artists. Photos thanks to Chad Timmreck
Hex's Hip Hop Shop (HHS)-- Melrose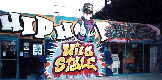 One of the many storefront pieces on the HHS during its existence, by Hex"TGO, owner.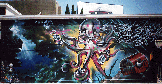 Hex"TGO

Lion 71, Dare"MIS, and Hex"TGO ("Hex" and gorillas), 1994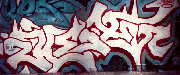 Hex"TGO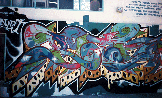 "Rat" by Hex"TGO, 1991
"Twenty years have gone by in these backstabbin streets....
So you spark up a match and you feel the cold heat...
Far too many illusions even children are strapped..
So if you fall for the cheese....
You'll get jacked by the trap! -- 7-28-91"

Omega"UTI, next to HHS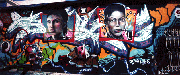 Hex"TGO, across from HHS, 1991 or '92




details

City Walls