Lame Face TM Graffiti Site
Graffiti Jams

| | | |
| --- | --- | --- |
| Date: | March 2000 | |
| Event: | Back To Planet Rock Part 2 | |
| Place: | Beursgebouw Eindhoven | |
| Country: | The Netherlands | |
| Price: | ??? | |
Back To Planet Rock Part 2 will be the follow up of Planet Rock Part I.

The Planet Rock Jam is all about HipHop, in its purest form. Representing all
the elements of the Culture, starting from the Graff', the B-Boy,
the DJ and the MC. All together forming the fifth element: the Jam.

The Organization of Panet Rock is having contact with KRS1 at this moment.
They are trying to get him to Beursgebouw Eindhoven for March 2000, the date Planet Rock
probably will take place.
There is no definite date because they first want to have KRS1(and others)...

Well, their website on http://www.planetrock.nl should keep
people informed about the latest news and things.

| | | |
| --- | --- | --- |
| Date: | Various from November 14th, 1999 till january 4th, 2000 | |
| Event: | DRUM EXPO GRAFFITI TOUR | |
| Place: | All over the netherlands | |
| Country: | The Netherlands | |
| Price: | nothing | |
| | | |
| --- | --- | --- |
| Date: | December 5th, 1998 | |
| Event: | BACK TO PLANET ROCK | |
| Place: | Beursgebouw | |
| City: | Eindhoven | |
| Country: | The Netherlands | |
| Price: | Dfl. 55,- | |
CHECK THIS LINK
BACK TO PLANET ROCK is gonna be a big old-school event representing the 4 elements of hiphop. There'll be bustrips to this event from 6 European countries. The final line-up will be announced in a few days and tickets will be available very soon. I'll keep you guys informed.


Here are some names of contributing artists:
BREAKDANCERS: Original members of THE ROCK STEADY CREW (feat. Crazy Legs, Fabel, Jo-Jo and more) (USA), Funky Gross Angriff (Germany), Out Of Control (Den), Full Effect (Ger), Gracious Crew (Fra), Sure Shot Crew (All B-Girl Crew from UK), Elementary Force (Hungary), Caz One Productions Crew (Holland) and much more.
DJ's & MC's: DJ AFRIKA BAMBAATA & SOULSONIC FORCE, GRANDMASTER FLASH, MC RAMMELZEE (USA), Zombi Squad (Holland), Krewcial & DJ Gus (Belgium), Headliners (Holland), The Proov (Holland), Extince (Holland), Brainpower & TLM (Holland), Ty & Shortee Blitz (UK) etc. etc.


GRAFFITI ARTISTS: SEEN (United Artists) + his eleven year old son DAVE ONE, Kilo, Shock, Skore (UK), Lokiss, Rush, Miste, Steph (France), Ces53, Eros, Rhone, Shave, Cosh, Dephazer, Curs, Phet, Cat22, Zender, Shoe (Holland), Quik (USA/Holland), Daim, Shark, Loomit, Toast(Switzerland / Germany), Tasek (Denmark) + more

October 4th 1998
back to the oldskool
SUGARHILL GANG
featuring
Grandmaster
MELLE MEL
dizata|crash 2|suez|baron von funkhausen
@ the Melkweg, Amsterdam, Holland
vvk: Melkweg | AUB | Ticketlijn 0900 300 12503 | 150 grotere postkantoren





October 2nd 1998
HipHop block jam @ Aknathon, Amsterdam
Click on flyer



June 5, 6, and 7 1998
Stripdagen Haarlem
Zat 6 en Zon 7 Juni in de Lichtfabriek, Haarlem
Expo by: Angel, Delta, Mode2, Self inflicted, Mark Sokpolie, Subalin & Zedz
FREE, van 10:00 tot 19:00 Neem de Waterpendelbus

May 28, 29 en 30 1998
Break Dance Event
International Breakdance Event
at Nighttown - Rotterdam
Day 01 - Thursday May 28: 15:00-20:00
Graffiti-jam at Schouwburgplein. Free

Opening

Graffiti-jam with breakdance and DJ's.
Guests are SWET (Denmark), DELTA (Holland), MODE 2 (France), REW, CES, CAN 2 (Germany), PENIS, PONE,
CAT 22, DUSH, DUBZ, BEZ, BLIS, SHEK, EGHA, KRIZIS and GORILLA'S IN THA MIST (NL).

Slide-show/lecture by QUIK.
About New York graffiti-art, hip-hop culture and music.

Discussion and lecture by "FRIENDS OF LEE"
This is a group of people who are concerned with the
restoration of a piece, done by the legendary graffiti
artist LEE QUINONES from New York. He did this piece
when he visited centre of Rotterdam back in the eighties


For further (breakdance) info about this event, check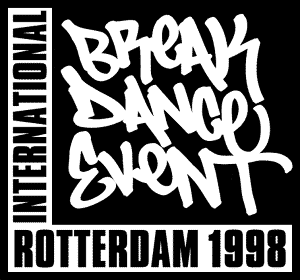 Nighttown site
NO graffiti at the other two days....

21 februari t/m 16 maart 1998

DELTA , DESH EN ZEDZ EXPOSITIE

in MaMA
( SHOWROOM FOR MEDIA AND MOVING ART )

WITTE DE WITHSTRAAT 31
3012 BL ROTTERDAM
010-4330695

OPENINGS TIJDEN ; WO-ZO ; 12.00 - 18.00



Zaterdag 20 december 1997

RETURN OF THE B-BOY. ( 1500 - 1900 uur.)

Graffity Expo.
Films: Tags, Style Wars en Twilight Crusaders.
Internet.
DJ's Cursor en Deen.

's Avonds:
RETURN OF THE B-BOY PARTY.
Van Old-school tot Now-school.

Plaats: Effenaar in Eindhoven.
achter centraal station ( + Jard....)
Info: http://www.iaehv.nl/users/effen

october 1997



Stathuys posse presents:
Hip Hop Contest
Graffiti wedstrijd
Kans op het maken van je eigen CD - Dutch Hip Hop gallery
Streetwear Dance Show - Sept/Okt '97
- Jongerencentrum 't Stathuys -
- Breestraat 19 - Leiden - Tel: 071 - 530983