Interview with Manuel Gerullis, the MOS Mastermind
Meeting of Styles 2008 - Big Dreamers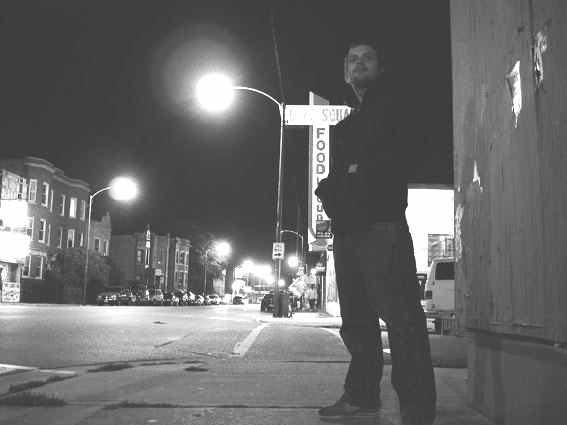 This interview was first published in French, in Innercity Magazine. Used by permission.
The real voyage of discovery consists of not in seeking new landscapes but in having new eyes.
- Marcel Proust


2007(see it biggest)

In a world reigned and dominated by capital, profit, status and prestige, greed and gluttony, suppression and segregation, the time has come to realize the need for mental change. The legal and social practice of separating people on the basis of their race, ethnicity or social class must come to an end. We need to realize that, no matter which color of eyes or skin, culture or roots, we need to form as one, to face the head of the beast in order to achieve evolution and change. Non-conformity is an attack on the evil of our surroundings, becoming catalysts for creativity, development and change. The world needs Big Dreamers following a vision of a better future, consisting in equality, justice and freedom.

In the spirit of collaboration and exchange.
MOS-2008
www.MeetingOfStyles.com
09-11 May, Thessaloniki (Greece)
23-25 May, Carevo (Bulgaria)
06-07 June, London (England)
13-15 June, Wiesbaden (Germany)
05-06 July, Wroclaw (Poland)
11-13 July, Winterthur (Switzerland)
18-20 July, Lleida (Spain)
25-27 July, St. Petersburg (Russia)
01-03 August, Belfast (Ireland)
08-10 August, Venice (Italy)
29-31 August, Montreal (Canada)
05-07 September, New York City (USA)
12-14 September, Chicago (USA)
19-21 September, Los Angeles (USA)
26-28 September, Mexico DF (Mexico)
21-23 November, Rio De Janeiro (Brasil)

What are the key dates in the history of the Meeting of Styles?
The basic key date was back in 1995 when the idea came to me to organize an international graffiti meeting at the Wiesbaden Hall Of Fame. This area was abandoned, unique and incredibly huge. At that time a bunch of committed people demanded a cultural center and took the main building. As their mental attitude was right at the time (but not anymore), we joined forces enthusiastically and produced the first Wall Street Meeting back in 1997. In the years after, the Jam grew and grew.

The next key date was the 2000 Meeting, when more than 10,000 people were at the jam and some out-of-towners thought they needed to demonstrate for the maintenance of the area by throwing stones at trains passing by the venue. That caused a huge debate in the city council and changed a lot of the city's attitude.

Another key date was at the last Wall Street Meeting when two Dutch guys, an American, Italian, Croatian, Greek, Swedish and a German guy met for the first time and decided to do a big production together which turned out as a complex burner.

The ultimate key date was back in late 2001 when the city of Wiesbaden started to tear down the schlachthof grounds. The ignorance of the politicians towards the significance of the area made me angry, and still does to this day. This inspired me to keep the spirit of the Wall Street Meeting alive and to spread it beyond the city limits. There were many smaller key-dates on the way.
What are the best memories that you have?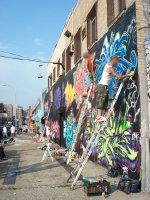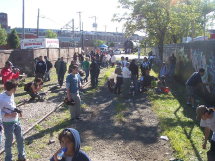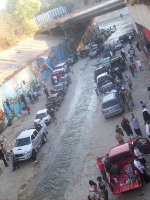 I have many. Fewer about politicians, because most of them really suck. I always enjoy seeing people from different countries, cultures coming together, unifying and collaborating -- to hear different languages at one venue. The best memories I share with some of my travel mates. There are too many.
The worst memories?
The year 2000 riots we had at the Wall Street Meeting. It was crazy and almost got out of control. Imagine: after the concert, late evening, there were about 2000 people in the area next to a train yard. So writers were playing with the cops, but tagging on trains and then jumping into the area, disappearing in the masses. So the transit cops came with helmets and shields to protect the trains, and people started to throw stones. A helicopter was flying above the area and police were about to close the whole event, which would have turned into a crazy riot. A guy crashed through a roof and got badly hurt. He is okay though.
How do you explain the longevity of this event?
People recognize the real. I think it's the history, credibility and spirit of the event. It's nothing commercial or artificial. MOS is unifying people through cultures, colors and crews. It's not created by a brand with a commercial intention. The MOS comes from the street, not from a desktop. We are focused on bringing people together in the spirit of collaboration and communication and people feel this. The honest intention, passion and love we have in putting this together. You tell me.
After all these years, how did you see graffiti evolving? And is it now easier for you to organize this event?
There has been a lot of evolution in the past ten years. The older scenes improved their skills and styles, new scenes have grown, especially in Eastern Europe, with new ideas, skills and styles due to the limitations in hardware. It has grown worldwide. Also the networking has evolved very much, also thanks to the magazines.

Even though the MOS is established, to organize it is a challenge each and every year. You never know how narrow-minded politicians will act. Beside of politics that have local influence on the MOS, the project also depends on sponsors. It has always been underfinanced with a small budget, which makes it hard to keep it alive. The crazy thing about the sponsor-issue is that those who are sincere and true to the game are very few.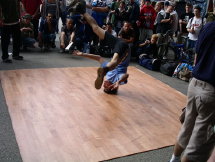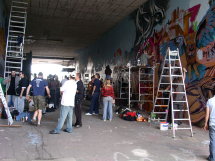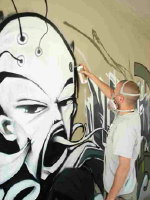 There are a lot of big brands using our culture for their brand-image, bringing out shoes, gear etc. But they just use it without giving something back. That's fake, and we have to be aware of being misused.
We are different from those who just look for bling-bling. They do things for advantage, but we act because of passion, so don't let them fool you. Because most of the venues are established at least the work with the local organizers and our partners goes smooth which helps a lot. Without them it wouldn't be possible.
You travel through the World. How would you describe the different graffiti scenes in different countries?
In my experience, I'd say the scenes all over the world are mostly made of graffiti-drenched brains ruled by styles, colors, skills, spots and trains. Scenes are very much alike all over the world because the passion and love unifies across all mental and cultural borders. In a negative way there is also envy, jealousy and too much politics. This segregates our community and weakens it. I think basically we should recognize that within the graffiti movement we have more in common than what divides us, whether you write on trains or Sundays at a legal spot. But wherever I've gone, local scenes have always been open minded. Stylewise I would say each country and area has its own soul.
How many people are working on MOS?
It's impossible to say, because there are so many supporters and helpers. All the local MOS organizers together might amount to 50 people, plus helpers and helper's helpers. Altogether it might be 30,000 Per year attending the events physically.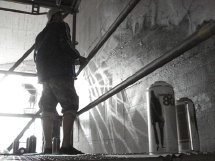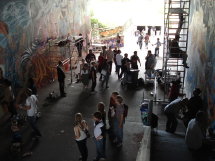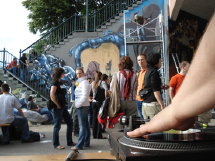 What is the annual budget of MOS?
The annual budget of the MOS is split between what the local organizers can arrange and what the international organizer can come up with. It's hard to say because there are no definite numbers. Many of the budgets are known a few weeks ahead of the event. Some local organizers don't have any budget, others have a small one. All in all, I'd say roughly 50.-80.000 Euros, including advertisements, cans, flyers, posters, shipping and hardware sponsorships, over all the organizers.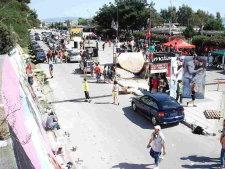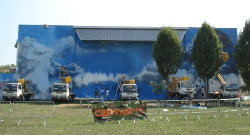 In which new countries would you like to organize a MOS?
A place where I'd love to organize a MOS, is the border of Israel and Palestine. This wall is probably the hottest and most political wall at present. I think that walls in general are not positive for the mind. Artificial, all geometric, walls cut mental and physical freedom apart. They are built to define, to function mainly as a base, but to segregate as well. Australia, South Africa, Asia. Maybe the wall between Mexico and the USA that they want to build or already did. Life is crazy. With all that killing and bullshit out there in this world, politicians bother about graffiti. Ridiculous.
Anything else?
Respect each other and unite. Share instead of segregate. Evolution of the mind.
Thank you all.
Yours.