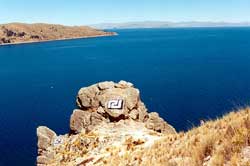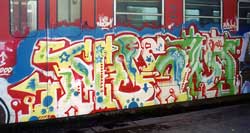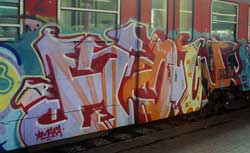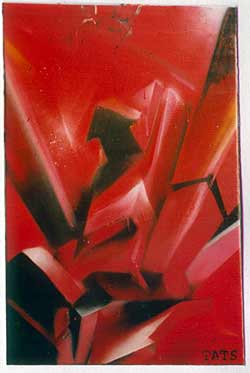 Art Crimes: Give a little history of how you guys started..
Nosm: We started graffiti in 1989 in a little suburb of Düsseldorf called Hochdahl. You know the Neanderthal? That's where it was found. I got into it, because I was skateboarding and all my friends were four or five years older were into tagging, so I got into tagging too. I didn't even know it was graffiti, I was just writing my name. I invented some crazy names, you know toy names.
Me and my brother started at the same time. I quit skating and was doing nothing for awhile, and then a friend of mine came and showed us sketches of pieces. He was already advanced. We started earlier, but we were just doing throwups and tags. "Oh shit?! Colors? Pieces? Cool!" A week later we went to do pieces. That was around the end of 1990. And from there we just kept on painting.
We had a little crew, it was called ABS or BKA. BKA is like the FBI here in the US.
We split after a little while, because we were more into it and he was still going to school and we had a little job on the side just doing graffiti. We started RAL, my brother came up with the name and from there it just developed.

AC: RAL is just the two of you?
Nosm: There is another guy MEGX, he started painting trains with us. And after a little while he quit. He paints once in awhile. And we had somebody else here from New York, but we had problems with him. He's definitely not RAL anymore. Right now it's just me and my brother and Cem2. Cem2 put himself down, he's like family. The whole TATS crew is RAL, but it's actually just me and my brother.

AC: When was the first time you came to New York?
Nosm: April '97.

AC: Between '90 and '97 you toured Europe?
Nosm: Mostly just Germany. Hamburg, Frankfurt, Munich a little bit Paris. All by ourselves, we had no connections. We didn't need any connections, I guess. We were already two people, me and my brother, which is the best. We just travelled and did our thing.
Our sister had been to New York and she knew this family in the Bronx. So she asked if we wanted to visit and stay... "Of course, let's go" So we decided to stay a month. When we got here I had only one address, for the Fat Joe store. I went there and met up with Brim.
I said, "I'm looking for some writers."
Brim said, "Well do you have pictures?"
"Of course." So we showed him our blackbooks and photos. So he gave us a beeper number, and told us to call it.
A few days later we met up with Bio. They said, "Nice stuff" and took us around to some spots. First they gave us one wall that we had to paint by ourselves, I think to see if we were ok. We did some more walls and before we left they said that they wanted us to represent TATS Crew in Germany.
And everybody was bugging out, they would say, "Do you know Daim?"
"No."
"Do you know Loomit?"
"No."
We didn't know anybody.
"Why did you come here?"
"Just to paint. I don't know."
It just happened like that.

AC: So you went back and met all of those guys?
Nosm: Yeah, we went back and started traveling a little more. Spain, England. It just happened. Through Magic, we went to a pretty famous jam in Essen. That's when Magic introduced us to Loomit and we met Can2. We just started meeting people then.
The European scene is very big, but very tight. Once you're in the circle everyone knows you.