DJ Rob One, RIP
All work remains © copyright 2000, the artists.
Rob One of CBS, FlyID, LORDS, and Shape Shifters died on March 16, 2000 from non-Hodgkins lymphoma, a type of cancer that is rare in people in their 20s.
If you know of any other Rob One tribute pages email us the URL so we can link up.


Bleek, Rob One, and Posh - in the Bronx (1998?), photo by Bleek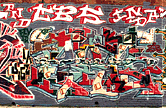 Closeup of Rob One's piece.
Thanks to Kaper for the following photos: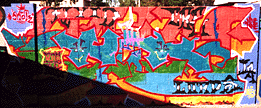 Rob One, in Phoenix (Jan. 1999)


Tribe, Fem, Chie, Scie, Meko, Doner, Miter (dragon), Robone, Gas (Phoenix Nitty Gritty show)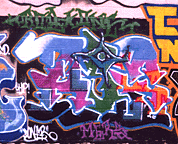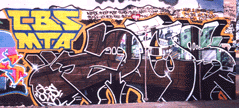 Closeup of Rob One's and Gas's pieces
Other Rob One Articles and Links
Any questions, stories about Rob, and sympathies can be sent to stef@vinylexchange.com
Stef's page: www.vinylexchange.com
Tick on Tick's Corner

Featured Artists

Art Crimes Front Page