MONEY TO BURN...1994 87 BY 54" O/C
RECORD RELEASE PARTY THURSDAY NOV 20 AT LIFE, 168 BLEECKER ST NYC AT BLEEKER AND THOMPSON

DOORS OPEN AT 10:30 in the VIP LOUNGE.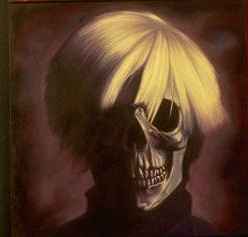 RON"S NEW CD!! ..... POPaganda!!!

POPaganda: New Release featuring TRIPPING DAISY, WESLEY WILLIS, DANIEL JOHNSTON and 11 OTHER FINE BANDS.

ALSO featured that evening is PEDRO CARVAJAL'S new film, A WORLD SNEAK PREVIEW OF SUBVERTISING

OPEN BAR 10:30-11:30 PM!!!


---

01/29/98

RON ENGLISH FEATURED IN CURRENT ISSUE OF JUXTAPOZ MAGAZINE!! GET IT AT YOUR NEWSSTAND TODAY! OR CHECK IT OUT (NOT THE CURRENT ISSUE, BUT WHAT THE HECK) AT JUXTAPOZ MAGAZINE.
---

---
1997 by chip sommer.... email to tracker@radix.net
last revised 01/29/97