---
GET YOUR ENGLISH LESSON .... TALK TO RON ..... ENGLISH SPOKEN HERE
---
MUSIC ABOUT RON ENGLISH - 2 CD'S NOW AVAILABLE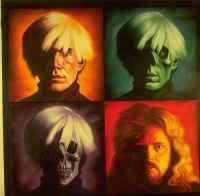 17 SONGS CELEBRATING RON ENGLISH BY 17 BANDS! JUST 12 dOLLARS! COVER BY RON ENGLISH. "tHE ANTI WARHOL" COOL.. ALL BANDS ON RECORD WILL SOON HAVE RON ENGLISH COVERS. BUY THEM ALL & GAIN AN ENGLISH COLLECTION PLUS SOME GREAT SOUNDS !



---
THE RON ENGLISH VIDEO.....ART AT THE SPEED OF LIFE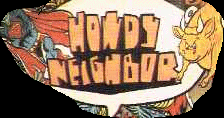 WATCH RON AND HIS CRIMINAL BILLBOARD CREW PUT 'EM UP THERE!! Watch Ron teach children to paint! SEE Guerilla theater in the streets of NYC!!

29 mins
$12.00



---
PAINTINGS and PRINTS
Many of the paintings shown are available, prices about $ 1-10K. More paintings being done all the time. Watch for them here. Giclee prints on canvas are available for under $ 500.00.


---
OTHER RON ENGLISH STUFF
Refrigerator Magnets: Set of 6 Available
AGIT-POP AMERICA Comic Book With Clark and James Gouijn Stook
TALK TO RON: ORDER THIS STUFF BY E-MAIL. IF YOU SEND HIM A CHECK OR M/O HE WILL SEND YOU THE GOODS.
---

---
1997 by chip sommer.... email to tracker@radix.net
last revised 11/13/97