Art Crimes: San Antonio 7 - Clogged Caps
Images © copyright 2003 the artists. Photos of Clogged Caps 2003. Caption corrections to yo@graffiti.org (mention San Antonio 7). Some of these photos are unfortunately very small. If you have better photos of some of these, please send them in and we'll upgrade. Thanks to Reno and Physical FourTen.
Photos by Physical FourTen:



Top - Shewp, Acee, Mega, Oerski; Bottom - Arab, List, Dokes, Diget, artwork by Cabs237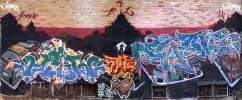 Hew, Ruthless, Yano RTL




Scope (Singapore), ?, ?, ?, ?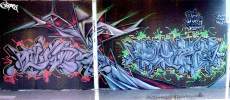 Scar, Mine, Daze22 TDS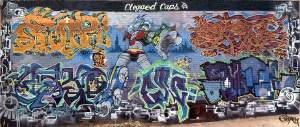 Top - Egor Erg Bottom - Swep Etcetra Switch - AEK 3FK 3XD (Chicago)




LTS: ?, Zuca, ?, A-bon by Aybon




Mpulse, Somber, Theme




DAC: Beks, Gomer, Sekt




Laugic Size 21 Curious (photo: Physical FourTen)




Sloke (photo: Physical FourTen)

City Walls