Art Crimes: Sao Paulo 1
All pictures on this page are © copyright 1994 John Howard, artist and photographer.

One of the "Big Mamma" series ("Maezona"). She has four hands in this version, each holding something to represent one of the four noble elements

"Big Mamma"
lamp post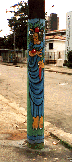 lamp post, 1992. Although technically illegal, posts can be done in daytime with minimum risk.

Graffiti puzzle in Russian. A small newspaper ran a contest for the best interpretation. [send us your own]

First figure of a four-figure picture, each representing a compass direction. This one is "South".

Done on several visits at a high-risk location, 1991-92. The first application was a splash of light green thrown from about four yards away.

City Walls