Featured Artist: Seven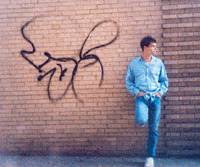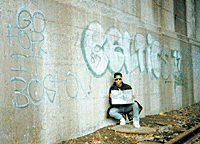 Charlie teaches high school these days, but just a few years ago, it would have been easier to find Charlie in a freight yard than in a classroom. Though Charlie is well-known as a likeable teacher who enjoys cultivating young minds, he is better known by his alias, SEVEN, the graffiti writer who lent his incomparable artistic talents to countless walls and trains in Washington, D.C. from the mid-80s to the early 90s.

SEVEN began his career while at a Miami high school, where he first came across graffiti in a picture in Life magazine. SEVEN, a connoiseur of rap during its infancy, began writing words he heard in rap songs such as "Scooby Doo" just to see how they looked. In the years following, SEVEN much of his time among the breakdancers and rappers who frequented Miami's burgeoning hip-hop scene. Here, SEVEN became acquainted with many of his early influences, such as SIMS, an older New York writer who taught SEVEN the ropes of the graffiti game.
SEVEN arrived on the D.C. scene in '84, leaving Miami in order to attend college at George Washington University. After testing out several names including BEER, GLOVE, and LUCKY CHUCK, SEVEN settled on the name he would later make famous. SEVEN began with the Metro Red Line and the Metro city buses, using thick Magnums to make his mark.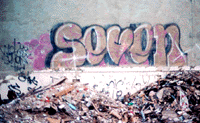 A unique facet of SEVEN's graffiti style is that he didn't put down any crew in particular. Instead, he put down FREE AGENTS to indicate that he wasn't associated with any particular crew, that he wrote for himself.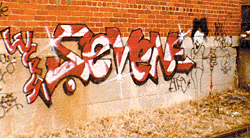 This independent spirit permeated SEVEN's art. Expressing this spirit, SEVEN incorporated elements from outside typical graffiti spheres, elements from such unlikely places as professional sports or popular music. In a SEVEN piece, you might see a Philadelphia 76er's logo or a tribute to Led Zeppelin guitarist Jimmy Page. SEVEN also lampooned current events and pop culture with such pieces as LINDA TRIPP SUCKS DICK, MONICA LEWINSKY, and KILL GARTH BROOKS. All of these departures from traditional graffiti were signed with the name FREE AGENTS.
SEVEN wasn't all shits and giggles, though. From time to time he painted pieces that captured the sad decay of inner-city Washington. A particularly captivating piece contained the simple statement, STOP THE VIOLENCE, a piece that ran in front of the Greyhound bus station for years before it faded and was written over. No doubt, this piece lasted for so long despite the fact that STOP THE VIOLENCE is an obvious cliché, because it was one that needed to be uttered in a city where a shocking number of young men were casualties of a crack war.

Today, a decade after his most productive period, SEVEN occasionally takes a break from being Charlie the schoolteacher by painting freights in his town. Altough he isn't nearly as active as he used to be, his crew (or his non-crew), FREE AGENTS, still lives on and is put down frequently by many graffiti writers across the country.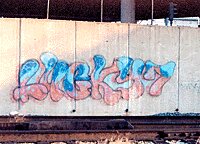 The dueling personae of of SEVEN-the man who is both an upright high school teacher and a ravenous graffiti writer-testifies to the latent spirit of graffiti: It is the urge to get up when everything else in life tells you not to, it is the rebellious spirit that jerks out of bed even the most reformed citizen, even high school teachers, so that in the middle of the night they will hit the freight yard and and express themselves to the younger generations who are seeking out direction and inspiration.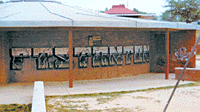 All Free Agents material and photos are copyright © 2001 Roger Gastman and the artists. For information about the book see the website CoolDiscoDan.com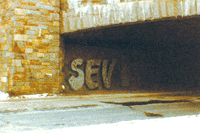 Featured Artists