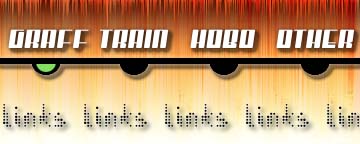 Art Crimes - the biggest, baddest, and the best...

Upstate Styles - great site from those wacky kids in upstate NY...

Visual Cancer - north American freight train graffiti; updated daily...

Grafe Cafe - they got screwed by their server and lost everything last year. they're back on their feet and better than ever...

Paint My Face - one of the best out there. covering the scenes in Atlanta,
Los Angeles and New York with coverage on Paint Louis 98 as well as some Miami fliks...

Sacramento Graffiti - pop in and see what kind of things these kidz up in the northern end of California with way too much time on their hands have been up to. this excellently designed site is updated regularly; lots of freights as well, which is never a bad thing...

AM7 Home Page - decent page with some good flix, that is if you dig flix of AM7 stuff. only bad thing is that it hasnt been updated lately so the list of members isn't quite accurate...

ATT DF Home Page - page with a good layout showcasing these 2 crews...

Government Cheese - whats there isnt bad, too bad a lot of the links are broken...

Connections - all freights; fliks are classified by region

NYC Graffiti @ 149 st - old skool New York graffiti on subways plus a large crew list with writers past and present with their crews...

Beyond Crazy - a decent grafilthy page comin straight outa big bad Los Angeles...

Da' Hub - graff from the land down under, Austrailia...

magazines

12 oz Prophet Magazine - 7th Heaven Distribution - nuff said...

Life Sucks Die Magazine - the home page of the only magazine that shows how bad the cold has warped those kidz up in Minneapolis.

While You Were Sleeping - home page of the only magazine where you can count on seeing "people i most admire" and all around good flix of walls and trains from all ove the world in every issue...