Art Crimes: Freight Monikers 1
These images are © copyright 2003 the artists. Please send caption corrections to yo@graffiti.org and mention Freight Monikers 1.
This form of expression is called by a lot of names: "hobo tags," "streaks," "oil bars," "worker tags," "freight monikers," "chalk graffiti," "boxcar art" and probably more we haven't heard yet. These drawings are usually made with oil-based markers (like grease pens or laundry markers) or (lately) paint pens. "Moniker" is a wonderful Irish word that means nickname, and "freight" is where they are found, so those are the terms we'll use for them.
There are many freight kings out there with thousands of monikers running each. We'd love to show more. Please send in more photos so we can show more of the greats.
What we do know is that these train tags have been around a long time now (decades) and that they occur on freight trains in the US. We also know that many different kinds of people create them. Many are done by writers now too. The writers tend to have shorter names than the original folks, and sometimes the same writer does various styles over time. We've included some more painterly examples done with the conventional moniker tools. In general, we're interested in showing the non-paint, or maybe non-spraypaint freight graffiti here. It is obvious that The Solo Artist holds down one end of the spectrum, while Thesis occupies a newer niche somewhere between writing and monikers in terms of technique. One might well argue they have nothing in common, yet they occupy the same space for similar reasons, and seem to be made with similar tools.
Please show respect for this important kind of train history. Don't go over the monikers!! When they are gone, they're gone, in many cases, since some of these train pioneers are no longer around.
These photos are courtesy of Lens (2002):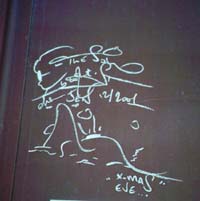 The Solo Artist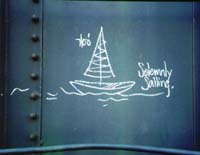 Solemnly Sailing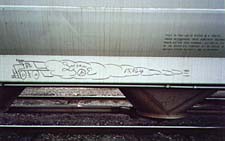 Smokin Joe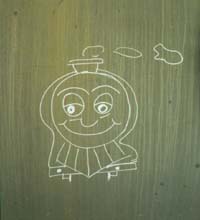 ?
Cup O' Joe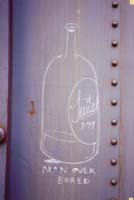 Twist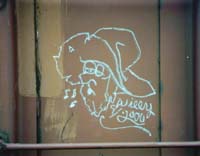 Willy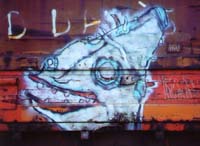 Thesis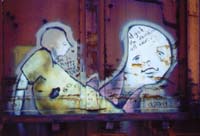 Tonto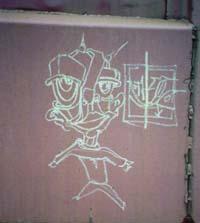 Other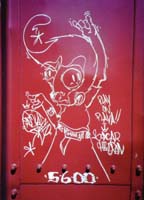 Sasquatch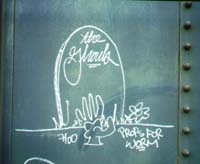 Goul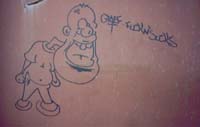 Grief

Train Index