Swatch1 Interview
Part 2
---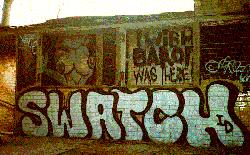 AC: Who was your influence in the beginning?
SW1: Even before I started writing I would see a Mitch 77 tag and Gismoe tag outside my building, the D train station had a big Mitch blockbuster in it, and the schoolyard across the street had a Mitch ticktock blockbuster that I could see outside my window. Inside the schoolyard, there was a piece with a Bodé character, a naked lady with big breasts and huge pink nipples. I was about 8, and couln't read the piece, but I would cover my face and look at the lady from between my fingers. I also remember writers like GMAN PGA, and Tracy 168. Before I took the name Swatch, I used to tag just because I was there, and it would just happen. I would write Oops. My initials are O.P.S., but someone wrote Oops MSK, so I would also write Cave, which I thought was cool. But then I saw that there was a Cavs. Sometimes I would write Uzi, like the machine gun, but most of the time I would write my name OMAR.
When I really got into writing my only influence was Bronx writers, so my style wasn't about sweating anybody's pieces, just getting my fame as a graffiti writer, not a wildstyle kid. The Bronx had its own graffiti style, especially from writers like Tracy and Cope.
Since Cope killed shit, everyone adopted that quickie bubbleletter style that meant you were a bronx kid, brooklyn had a mechanical style, and manhattan was mostly taggers and piecers, since there was no room for inbetween, in such a crowded borough...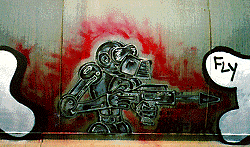 AC: Do you count anyone as an influence on your current work?
SW1: I think that since I didn't get caught up trying to emulate the style of other writers I have my own unique style that says, "fuck it." You may not like it, but you know you can't go over me cuz I paid my dues and will catch it back. I think the only writers who have their own perfect style are CLARK, BARON, GHOST, REAS, and maybe a few others that I can't think of at the moment. Since I'm into the art thing, I would say that today I'm influenced by Clive Barker, lots of science fiction, and Dali...

Interviews and Articles