Art Crimes: Melbourne Trains.
These images are copyright © 1996 By Urban, Pheerz and the Old man.
All these flicks were taken in and around melbourne, Australia.
Shouts to all the writers still doing trains in melbourne...
Click on the image for a better view.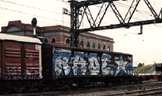 "Rade" One of my favorites... Shot taken in newport, Melbourne.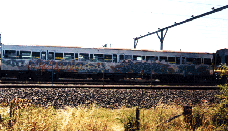 "THC Crew" Lots of writers travel interstate to do our trains...

"palc" Taken in the early hours of a fresh melbourne morning...

Train Index