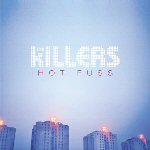 The Killers, "Hot Stuff"
2004, Island/Def Jam
The first groups that came to mind when listening to the hawt album Hot Fuss by the Killers were early U2 (what other U2 is there? Ok, Lemon was fucking dope..but other than that Blood Red Sky is where it's at), Psychedelic Furs, some INXS in a way that I dig-although I bet the ladies tell me Brandon Flowers is no Michael Stipe. There's all kind of other Euro-pop synth and rock like good Duran Duran to round out the package.

Take note of "Somebody Told Me" it's big and I bet it'll pack all the right dancefloors where rock is accepted.