Art Crimes: War Art 4
Given the state of world affairs in March 2003, we have made this place for war murals and other graffiti artist war reactions. If you'd like to send something in, please send JPG images to yo@graffiti.org with information about who, where, and when (and if not Iraq, which war).

The images shown here are copyright © the artists.


"LA.. AGAINST THE WAR" - MARCH 2003 -- E.L.A. BY: MAN ONE (coi/90dbc), ASYL'M (sh/90dbc), RUKUS (visions/wgs), VYAL(coi/90dbc/vt), MARKA27 (ala/3a) Bush/Saddam characters by ASYL'M. Photos courtesy of crewest.com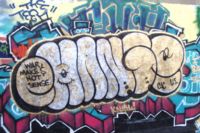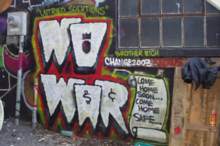 by Change, for his brother



Murat and Adem, Bremen Germany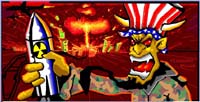 Tobe, Murat, and Adem, Bremen Germany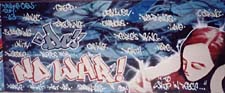 Drake Crew, Malaysia




Dmote, Australia




Raims.DST (Daystartribe), Florida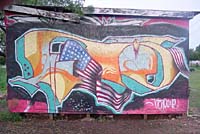 Mote.DST, Texas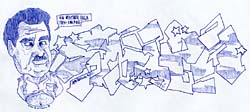 by Snipah




Near London Bridge Station in London, England. "War Huh Yeah, What Is It Good For???" by ANIE NT and INSA FCK, done the night before the big anti-war march in London, 2003.




photo by Zal, Chile