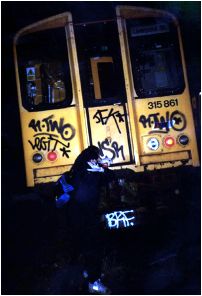 It's been a busy past 3 months and it's all finally come together. Over 400 new actions on the walls and trains from London and the rest of the UK. Some exclusives as ever, especially on the trains with some fresh panels on both the tubes and the BR's ... including rare shots of first time hits on some of the new rolling stock starting to appear in the South East.

As you may have noticed, there have been some changes to the site as a whole, and hopefully these will continue as time permits. Our aim to is make this site a starting point for UK writers to see not only the latest UK action, but also to provide information on where to get paint, where to get good photos, the location of legal walls and links to other sites that also promote the UK scene.

Not much general news to report this issue. If you do have information on any forthcoming events to be held in the UK, then please contact me.

Below, just in, brand new WAGN hits by SFW and BRF ...