STOCKHOLM: One of the most important issues of graffiti is the photo. The proof of a completed work and often the only remains of the action. The evidence that can not be replaced by more than seeing it live. A lot of pieces are actually postponed and even cancelled due to broken cameras or bad camera views. If there is no photo, was the piece ever done?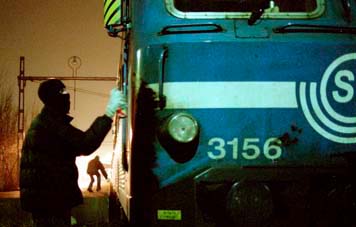 (Photo: Malcolm Jacobson)

Internet is free - books cost money
As most styles come from inspiration of other peoples styles, some photos are of particular interest. Those photos are collected in graffiti magazines, often arranged like world wide newspapers of what was done in the past months in variuos counties. Two problems with graffiti magazines are money and distribution. In the past 3 years we have therefore been able to see graffiti in a new medium; Internet. Internet sites are both virtually free and very easy to spread world wide in just seconds.


The new graffiti book


Ones in a while a book about graffiti is made
As more writers get access to the internet from homes and class rooms, graffiti web pages increses in number every day. Although there still seem to exist a demand for graffiti traditional printed on paper; To put in a shelf or carry around with. Ones in a while a book about graffiti is made. They are still easy to count but when they come they are often in popular demand world wide.
They call us vandals!
Malcolm Jacobson is a photographer and journalist from Stockholm - Sweden who has photographed graffiti for over ten years. He has worked as a photographer for magazines and books, mainly taking photos on request from other. Today he has made a whole book on Swedish graffiti that he chose to name: "They call us vandals". It contains a lot of good quality photos from all over Sweden, of which alot are on trains. Also some Swedish writers tell us about their lifes and thoughts. Endstation has talked to him:
-I wanted to make a book with the photos that are the most impotant to me. I also wanted to make a document of Swedish graffiti with high quality photos. Most publications that show graffiti have small photos that only shows the pieces. I also wanted to show the surroundings and the atmosphere around graffiti.



Earlier we have been able to see some of his photos at several Swedish hiphop jams and exhibitions. At some occations authorities and organisers of jams has banned his exellent slide show due to increased risk of vandalism in the sorrounding area.

-When I made a slide show about Swedish graffiti in 1998 some people thought it was wrong to show pictures of graffiti. But I think it's important to document graffiti since it's something that happens around us and often disapears quickly.

At least not if you are a journalist
In Stockholm photos of trains is most likely to be taken in the early morning. It might also be taken at the time of the action. That means to be on the actual crime scene. Isn't that illegal?

-It's not illegal to document when someone commits a crime, at least not if you are a journalist. In Sweden it's also forbidden to ask a journalist about their sources of information.



No matter if you did not mind to take photos of work that you were not satisfied with. Malcolm might have caught it running or even before it left the lay-up.

-One early morning I climed up a more than 15 meter high chimney in an industry area to get a photo over the Stockholm main yard. A nice window-down-wholecar was in the front. I reached the top of the chimney. Suddenly it started to sway from side to side and a cloud of smoke came from the chimney. I felt a bit insecure but the smoke stopped so I sat down on the top of it to wait for the sun to rise. I got my photos and went home.

end.

Buy the book from Malcolm Jacobson here!

Right before we was to publish this issue, this telegram from Great Train Operating Company Ltd. came to the Endstation office.
"We are constatly working on new methods of cleaning trains of graffiti."
Great Train Operating Company Ltd.