DUBLIN: Have you ever tried an Irish Guinnes? Most writers do. But have you ever painted a panel of a DART train? Most writers don't.

DART trains are the local trains around in the Dublin area. Fed1 lives in Dublin - Ireland. Unlike the rest of his fellow countrymen he is not a fan of Guinness and his name is up on the trains! Our Endstation reporter has recently talked to him about the situation on the green island.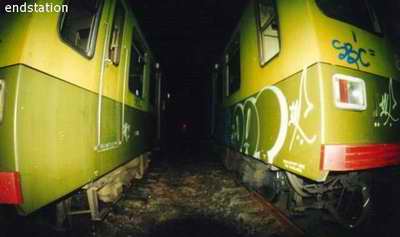 30 minutes of action

DART trains are my main target. DARTs provide an ideal surface for bombing - flat panels with very little obstructions. But with only two yards on the line it's difficult to paint the trains regularly because security is tight. Any other passenger trains are good to get as well, like the orange ARROWs and INTERCITYs which run around the country. Generally, missions to local yards are kept under 30 minutes.
Too relaxed?

There's a relaxed attitude towards graffiti in Ireland... sometimes too relaxed! Out of around 35 writers in the country, only a handful keep up the pace. The fact that we have a small scene works well for us, almost all the writers know each other and there is little room for animosity.

Society here views it like anywhere else, some like it and some don't. The police don't actively go out of their way to catch writers, but they're aware of our dedication.

| | | |
| --- | --- | --- |
| | | |
| fed | fed | panels on the DART |
There have been a few arrests... some writers were fined £1000+ for a trackside they did in 1998. Also in '97 similar fines were dished out when some heads were caught painting a DART.

fed taxi (holland) idoj vets
Its yet to be spread around the country!

The scene over here differs from the UKs mainly because of it's size. Only a few major towns and cities have a growing scene, and it's yet to spread around the country. It's difficult to organise legal walls without some sort of hassle, but there are some good established spots to paint in Dublin, Belfast and Drogheda. Our train network isn't very extensive, but
there's a future in it for a while to come. Freights get hit frequently, and older pieces can be seen running alongside some fresh ones - the majority don't get buffed, which is nice.

FED1

End of report. -endstation(m)