Katch, page 2
All artwork © copyright 2004, Katch.

Thanks to everyone who contributed these photos. Some of these came from people who are not the photographer, but we'll sure be glad to give credit if the photographers step up. We want to show as much Katch material as we can, so please send them if you've got them.

Photo from Akrb: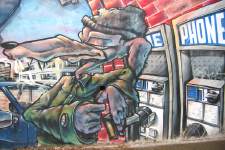 photo by Jedi, painting at Bills Wheels, Santa Cruz CA.

Featured Artists