---




Ron's fine painting, THE ANTI WARHOL, provides the cover for the CD ENGLISH 101. This collection of 17 songs about Ron English by 17 different bands is a lot of fun, you need one of these. Order by e-mail. You can here some samples right here, just click on the title of your choice and enjoy. Ron has done album covers for a lot of these bands, some have web sites which can be found in the LINKS section of this site. Unfortunately, this recording is currently out of print.
RECORD RELEASE PARTY THURSDAY NOV 20 AT LIFE, 168 BLEECKER ST NYC AT BLEEKER AND THOMPSON

DOORS OPEN AT 10:30 in the VIP LOUNGE.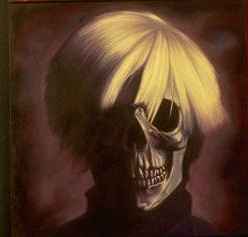 RON"S NEW CD!! ..... POPaganda!!!

POPaganda: New Release featuring TRIPPING DAISY, WESLEY WILLIS, DANIEL JOHNSTON and 11 OTHER FINE BANDS.

ALSO featured that evening is PEDRO CARVAJAL'S new film, A WORLD SNEAK PREVIEW OF SUBVERTISING

OPEN BAR 10:30-11:30 PM!!!


---


ENGLISH 101 Unkulunkie Records 1994

samples are in real audio format, approx a minute to a minute and a half each. (200K, +-) They are NOT streamed, graffiti.org does not run a real audio server, your real audio player will handle them as downloaded files.


---


POPaganda 1997






---

---
1997 by chip sommer.... email to tracker@radix.net
last revised 03/08/98