SCRIBBLE MAGAZINE
This site is not related in any "official" way to Scribble Magazine, but we do know each other.
Issue #9 came out a few weeks ago, but I never got a chance to review it. Well, like always, this is one of the best magazines around. Tons of full color pages. A lot of stuff from this summer's Cincinnati and St. Louis Jams (check out the "Legal" section of our site as well). An interview with DALEK and a written review of Scribble Jam'98 by DEVIOUS. These guys always do a good job. My two complaints remain the same: Boring layouts, boring interviews. Overall this issue KILLS (again)... Keep up the good work guys!
Send $5 well hidden. (Remember to mention you heard about it here on the QCT site)
To contact SCRIBBLE, write:
SCRIBBLE MAGAZINE
P.O. BOX 19329
CINCINNATI, OH 45219
U.S.A.
SCRIBBLE MAGAZINE ISSUE8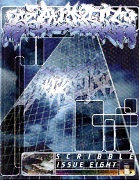 Issue #8 is out now. Over 20 pages! Tons of flicks by Loomit, Virus, East, Amaze, Twist, Emit, Sub, Optik, Daim, Kaws and tons more! AMAZING pieces Abuse, Merz and High. We are talking AMAZING!
If that wasn't enough, you also get an interview with Grey (conducted by KR), plus an interview with Ces. This one is not that hot really. We'd rather hear people talk about graff and not girls or some stupid thing like that, you know? Lame questions.
ANYWAY, this issue is WELL worth the cash. You must check it out.
---
[HOME] - [MENU BY SURFACE] - [MENU BY ARTIST] - [LINKS]
[INTERVIEWS AND ARTICLES] - [SCRIBBLE JAM'98] - [TRADE FLICKS] - [CONTACT US]
---