SCRIBBLE JAM 1998
Well, it did happen after all...
Our very own SUCiONE was there and here's what he had to say:
SuCiO, KDC, GOT, here. This is my account of how scribble went down. Thanx to all involved. It was a heap'o'fun.
Friday, August 7th,1998:
I asked for the day off work, but my boss told me I couldn't have it, so I was bummed, 'cuz I wanted to get there early to get a good spot. I talked to OPTIK around 9:30am and he told me that SAGENT was with him, and that, along with TOUCH they were going down there around 10am. I was so jelous! I wanted to start painting so bad! But it would have to wait until 5pm, when I got off work. OPTIK also told me that they (OPTIK, SAGE & TOUCH) were gonna paint together. I was double bummed, cuz I knew I was gonna get there way late and was going to be forced to paint by my lonesome.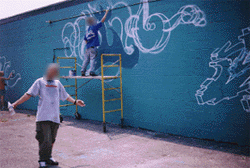 SAGE & OPTIK get started on Friday morning...
Around 10:30am, my boss got to work and asked me what I was doing there. He had actually given me the day off and was just fucking around when he said "No". We had a laugh about it and then I took off. When I got to Annie's around 11:30, there was a bunch of people there already. PASE and KAPS were almost done. Some Kansas City Kids were starting up. The ATT wall (JASER, MERZ, DALEK and KWAZE) was also on its way.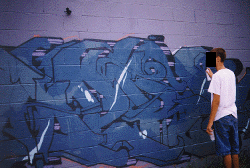 MERZ took his time...
After walking around for a while I saw OPTIK. He told me they hadn't started yet, and that there was a spot on their wall. "Rock 'n Roll!!" I thought. After SAGE and OPTIK briefly explained the idea, we got to buffing. It was very, very, very, very hot. How many "very's" was that? Well, it was HOT.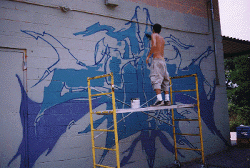 DAMN! I look good without a shirt on!
This is when it all became a blur. The heat and the fumes got to me, I think. I'd paint for about 20 inutes and rest for 10. Every chance I got I would walk around to see what the deal was with everyone else.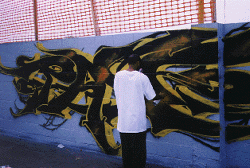 PASE gets busy...
I saw DEVIOUS get started. Also, some of the MN kids got there and got started. I just can't remember what time any of this shit happened. I forgot to eat (I know, I'm an idiot!), and I started to hallucinate and shit. I was fucked up. I had to go home and eat/sleep. Around 6 or so, this lady took our scaffolding away. Well, it was hers, so she just took it back. We had to stop. I went home, ate and slept.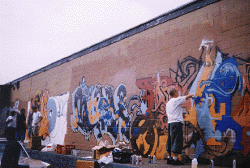 HEAVY METAL crew from MN
Saturday, August 8th,1998:
The next morning I got there around 9am. OPTIK, SAGE were already there. TOUCH went to get paint or something. Now we had to look for this lady with the scaffolding, otherwise I was fucked. My piece was like 12ft tall!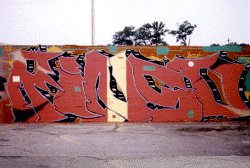 Cincy's own RINSO
I walked around for a while and saw all the shit for the jam being set up. Amps and shit. Some of the merchandise tables were setting up, too. I saw DEVIOUS' piece. What a beauty! Also, VERBS', but his was being blocked by a stupid table! I couldn't get flicks!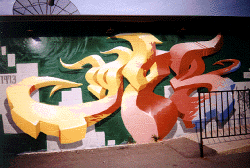 Profesor DEVIOUS' school for higher graffiti learning is now in session. Any questions?
KAPS and PASE were also done. I felt I had been lagging. I should have been done Friday. We had to take turns with the stupid scaffolding, though. That is IF we could find that lady again!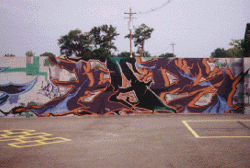 Oh, yeah! KAPS!
I walked behing the flea market and sat for a while with MERZ. Made fun of him for whatever reason and watched KWAZE get started. He arrived there late or something.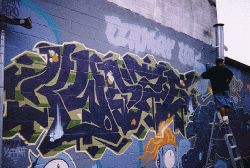 KWAZE
Finally, I spotted that lady. By the time I got to her, OPTIK was already rolling that shit down to our wall. Let's get busy!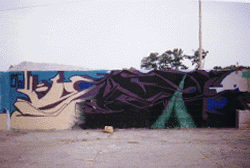 SE ONE paints big!
This time I knew better, so SAGE and I went to get lunch around 3. By the time we got back the jam was in full force. the bass from the B-Boy competition, or the MC battle or some shit was loud. There was so many people around the stage I didn't even try to get close or see what was going on. On top of that I wanted to finish my shit.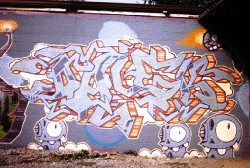 DALEK, BOM, ATT
Saturday was fucking hot, too! I took my shirt off again and GTV interviewed me. I'm wondering if they'll use the interview. I sounded like a jackass. SAGE was on camera more than once, too.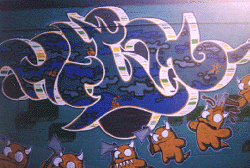 OPTIK got done later Saturday
There was a ton of people walking around. I wanted to walk around, too, but I was lagging behind on my piece. Did I mention that it was hot? It was. When I was ALMOST done, some guy came to take the scaffolding away again! Since OPTIK and TOUCH had been using it to do some characters and shit, I hadn't really used that much!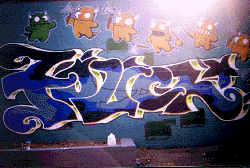 TOUCH. One of my favorite pieces of the Jam
OPTIK and I asked the dude for 5 more minutes. We both climbed up there and did as much as we could in 5 minutes. The rest I got later, by climbing up on top of my van. It was about 7:30 by now and I had missed most, if not all, the festivities.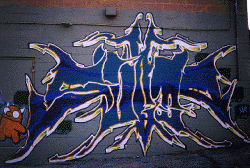 This is what took me about 14 hours to do!
After OPTIK finished up the characters our wall was done. I did have a blast painting, but I wish I'd gotten done sooner, so I could have chilled and enjoyed shit a bit more...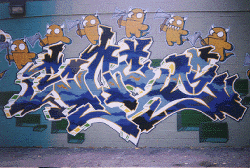 Is this how the do it in Philly, SAGE?
I walked around one more time I realized everyone was pretty much done. I got a few flicks here and there, but ran out of film after the ATT wall.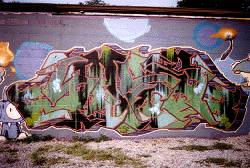 JASER's piece was the last shot on my last roll
I told myself I'd come back on Sunday and get the rest of the shit, but I didn't. On Sunday, OPTIK called me and asked me if I wanted to go painting with ABUSE. I didn't even know he was in town! That's how fucked up my shit was! I said yes. I suck. I can't wait 'til next year.
---
[HOME] - [MENU BY SURFACE] - [MENU BY ARTIST] [SCRIBBLE MAGAZINE] - [LINKS]
[INTERVIEWS AND ARTICLES] - [SCRIBBLE JAM'98] - [TRADE FLICKS] - [CONTACT US]
---