Extracts from an article appearing in Metro (29th Sept 1999).
Written by Jane Last.

Three-quarters of the paint-vandals on the Underground are arrested - thanks to the country's only specialist graffiti squad. As a result, the Tube is no longer a haven it used to be for spray-can artists.
PC Brian Taylor said: "This year we've arrested 75 per cent of the Underground graffiti artists. We caught 23 in the last couple of months and last year we had a 20 per cent reduction in graffiti crime."
"We can catch them in the act. We're intelligence based - we put the jigsaw together and get a perfect picture. We know exactly who they are - after all they leave their signatures."
A gang of vandals broke into Northumberland Park depot in 1993 and sprayed 15 six-carriage trains in one night. But that was before the graffiti squad snapped into action. PC Taylor, 46, went on: "That sort of thing doesn't happen now there are security guards, police patrols and closed circuit TV."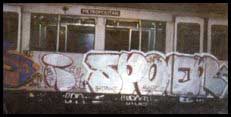 "They are mostly juveniles aged 12 to 17 who want to put their 'tag' on the trains," he said, "It's a way of getting themselves noticed."
Many taggers come from broken homes with no parental control. They stay out late and join gangs like DDS (Diabolical Dubstars), FLS (Front Line Soldiers) and VFL (Vandals For Life). And they steal the paint they use, so many have criminal records for shoplifting.
Ironically, Brian Taylor and his colleague, 28 year-old PC Spencer Richards, have inspired the taggers. A mural at Twickenham station featured a red heart with Spencer and Taylor written through it. And a tagger named Zeal sprayed 'BTP, we love you really' on the embankment walls at Turnham Green. Brian Taylor had little to say, except: "We re-arrested him last night."
---
Do you have some thoughts about this article or Tube writing in general .. have the BTP got it sussed? Let us know. I'll collate the responses and publish them in the next Issue.