Remembering Dream
Click on these to see the large versions, because the small ones really don't do them justice. All work remains © copyright 2000, the artists.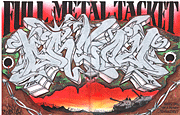 This is a sketch Dream did in Bias's blackbook. Dream and Spie painted a version of this piece in late 1999, which you can see here.

Refa did this sketch for Dream. I asked him if he did it for Dream or if Dream did it for him. He said: "Through Dream's teaching one could conclude that in fact he did give me this style... . This painting was spiritually inspired by our true GrandMaster Dream. I had to do it at this caliber because of Dream's quest for excellence."

Joker did this painting dedicated to Dream.
From the funeral flyer
Michael Mendones Francisco August 15, 1969 - Feb 17, 2000
DREAM
Raised in the Hustle - Enlightened by the Struggle
Michael Francisco, better known to most of his friends and followers as "DREAM", has left a legacy as indelible as one of his famed aerosol pieces on the American landscape. He has been a critical shaper and alliance-builder of the hip hop movement which now defines contemporary youth culture and social consciousness.
Dream was as unique as his technique. All who have known him and of him will be forever changed by his persuasive verbal and visual skills and an unabashed sense of humor. He was one of the most charismatic leaders of the urban art underground, who connected folks from all walks of life. Forever true to his roots, Mike Dream reminded us to work for neighborhood empowerment. A revolutionary without a revolution, his vision for a better future was painted with an uncompromising quest for justice. Dream savored every moment of his colorful life and embellished our own. He escaped routine, rejected convention, and resisted the constraints of a repressive society. Mike Dream was a rebel, and a player in 'the game'. Nobody better understood the rules of survival; that he had to determine his own path, which he did through his art and with a real love for his friends, his family and for the people.
Dream was a self-defined "international hip hop delegate" and "street-certified stylist", an accomplished aerosol writer, tattooist, airbrush and graphic artist. A leader of the TDK crew and TSF (Taller Sin Fronteras), he was featured in several gallery exhibitions (including the infamous No Justice No Peace) and countless walls.... Dream, without question, has left his mark, and has given us the incentive to live up to our own truest potential. His spirit lives on. "Dream, but don't sleep..."
Born August 15, 1969 in Vallejo, California, Michael Francisco is survived by his mother Irene Francisco-Ancheta, father Sergio G. Francisco, step-father Sonny Ancheta, brothers John Francisco, Kenny Ancheta, and Dexter Francisco; his fianceé Nicole Sellers, and loving son Akil Rahim Francisco. He will be missed by all his friends and collaborators, from TDK and all crews worldwide; TSF compañeros; and his trusty sidekick Flash.
The "Akil Dream Fund" is being established for Mike's infant son, Akil. Donations can be sent to: SANWA BANK, 2127 Broadway, Oakland, CA 94612, Routing #122 00 3516 Please make checks payable to Akil Francisco. Thank you.
"When you explode legitimately against the injustices that have been heaped upon you, they use the press to make it look like you're a vandal. If you were a vandal, you have the right to be a vandal." - Malcolm X
"Which man can save his brother's soul
Oh Man it's just self control.
Don't gain the world and lose your soul - Wisdom is better than silver or gold." - Bob Marley
"...'bout to take it to the top y'all
and it sounds so nice
Hip-Hop you the love of my life...." - The ROOTS Crew
Other Dream collections and memorial pages
Memorials and Dedications for Dream and Pak TDK
Official Dream.TDK site: dreamtdk.com

City Walls