Art Crimes: War Art 11
The images shown here are copyright © 2003 the artists.


"It's for all the war zones, the places where bombs fall every once in a while... It's for the everyday victims." The French words say "On est pas là ou les bombes tombes," which means "We are not the ones dodging bombs." The mural is called "1000 Mots de Trop," which means "One Thousand Words Too Many" by Jest and W.I.N.D. Can Discipline (CDCrew), in Laval, Canada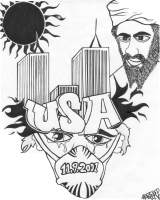 "Osama" by Master P, Finland
NOt WARranted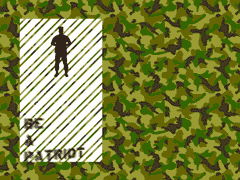 a 40 sec movie against US intervention in Iraq by Longe
From Purmerend, Holland, by Dopie and Getone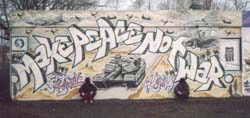 Painted by San Francisco artists The Peyron Brothers (Willie & Momo) [we don't know if they also write]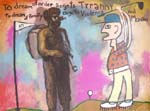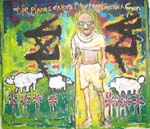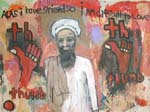 From Antwerp, Belgium - March 2003, as US tanks moved through that country. Photo by Bugt.