1999, my sixteenth year writing. Yes 16 years, that means I've been writing before many of todays writers were even born. Now for some that meybe hard to comprehend, as it was for me looking at New York in 1970, the year I was born, but facts are facts and it will be interesting if many of todays writers will have equally long careers.
Before I talk about my year, I'll give you a quick history. I started writing in 1984. Usual influences and early pieces were done with assorted mediums until Subway Art came out and taught us the method. By 1985 I was heavily bombing and making my first journey's into South London. In 1986 I painted my first train pieces and was warming up the insides too.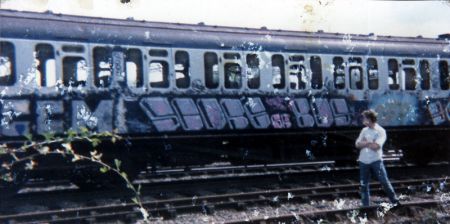 An early yard mission (1986). Reem 151, Skore, Bos, Vans & Dvise
In 1987 I was up and running, top to bottom wholecars, window-downs, panels, insides and outsides. For the people that remember (and they get fewer every year) like Petro, they'll tell you that in the eighties me and my bombing partner Dome were kings of BR's throughout the South East. Tags on every train, and that's an area many times the size of London. We would ride trains every night with weekend yard visits.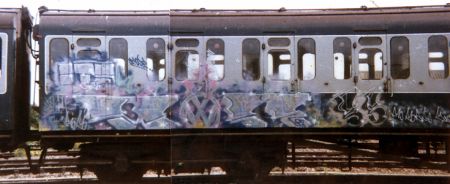 'It's Skore' 1987 - Check the VW sign!!
In 88 I was based at Elephant & Castle, and tubes already visited in 87 came more into play. Insides on every Bakerloo, hanging out on the Big Met, Kast, Mise, Steam, Harrow on the Hill ... London was living. In 89 things stepped up in two ways, a chance meeting with Mist 1 from Sheffield, meant tube yard tourism and busts. Crown Court conspiracy, toothbrush in hand. A subsequent meeting with Sigher (a live train addict) meant the start of TRC, but another bust and Crown Court conspiracy after walking into a Police filled yard for wholecar actions. The decade ended and so did my career as I knew it.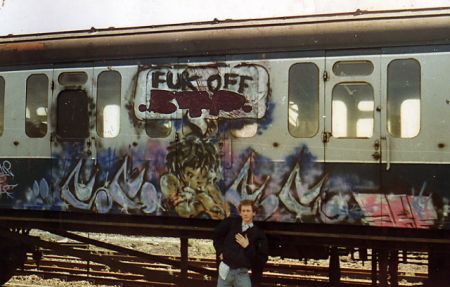 'Fuk Off BTP' Skore 1987
Next Page >>>