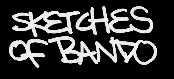 Here is the biggest collexion of Bando sketches on the net. A few of them are reconstructed by me. Upgrading the quality. Even nowadays these shown styles are classic and fresh. All drawings are in my posession.
Scanned and reconstructed by me. I know you can not hardly w8. Remember to keep your jaws together while enjoying the download of each sketch.
---
BE ADVISED: THE VIEWING OF THESE SKETCHES
WILL CHANGE YOU STYLE 4EVER.